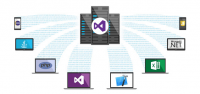 TFS "15", not to be confused with TFS 2015, has now reached Release Candidate status. This means this is a "go-live" release and will be supported by Microsoft when installed into production.
As you look at the impressive list of improvements made in this release, you should keep in mind the minimum SQL Server requirement is now at SQL Server 2014 SP2. TFS 2015 Update 3 minimum support is SQL Server 2012 SP1. If you recently upgraded to TFS 2015 and you don't meet the minimum SQL Server version, you will need to factor this into to your upgrade planning. For more information on the server and client requirements, click here.
If you had tried out TFS "15" Preview, you will not be able to upgrade that instance to TFS "15" RC1. This is not surprising because in order for Microsoft to provide production support, you need to be coming from a production version of TFS.
For what it's worth, there is mention of a RC2 in the release notes and in Brian Harry's blog, he mentions that he does not expect a RC3. If you had been keeping track of what is coming in TFS "15", the most notable omission in this release candidate is the new Pull Experience for Git users. It expected out to land in RC2. So if this was a feature you were looking for, definitely wait for RC2.
Note: Microsoft is still calling this TFS "15" because that's the version number of the bits. The final release may be called either TFS 2016 or TFS 2017. Stay tuned!
Plan your upgrade now!
With the TFS "15" now in the release candidate phase, this would be a good time to assess and plan your upgrade. Contact us to schedule your upgrade, so you'll be ready sooner than later.

//