With the rising popularity of the cloud, and the increasing use of bring your own device (BYOD), Internet of Things (IoT), and mobile apps, the risk of sensitive data being exposed to theft or exploitation are significant. Relying on the traditional network perimeter as the primary protector of your company's key data stores is no longer an option, as these have become increasingly porous in a cloud-enabled world.
Identity as a Security Boundary
As a result, identity has become the new primary security boundary. Proper authentication and assignment of privileges are crucial to ensuring your company's sensitive data is safe and secured. Azure Active Directory (AAD) is Microsoft's cloud-based identity service. Out of the box AAD supports both cloud and hybrid-cloud scenarios (synchronizing with on-premise Active Directory) and provides a comprehensive set of features that allow organizations to quickly add and configure policies and measures that ensure proper identity management governance and compliance.
Top 6 Azure Identity Management Features List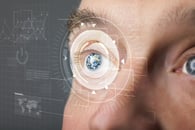 What follows is a list of the 6 Azure Active Directory Identity management features and polices your organization needs to implement now to ensure people have access to the information and services they need, while at the same time minimizing risks to your Azure cloud resources.
Adopt

Single Sign

-

On

(SSO)

– the sad fact is the more identities you

r

users

must

juggle

and manage, the greater the risk of credentials being compromised. SSO allows users to manage one login and one password,

and

simplifies

assigning users access to the services and resources they need to do their job

Enforce

M

ulti-

F

actor

A

uthentication

for users.

Reduces the impact in the event of

stolen or compromised credentials

Adopt

C

onditional

A

ccess

policies – users can access your organization's apps and services from a variety of devices and locations. Make sure their devices meet your standards

of

security and compliance.

Use

Role-based

A

ccess

C

ontrol

(RBAC) – access management plays

a critical

role in governing who has access to which resources and what

they

can

do with those

resources

.

Use

Privileged

I

dentity

M

anagement

– govern which individuals in your organization have elevated access to your company's resources.

Use

Managed Identities

– for service level accounts.

Azure infrastructure will automatically take care of authenticating the service and managing the account.



With Azure Identity Management and access control fully utilized the risks to your Azure resources and data are minimized. Whether you're starting from scratch or you have an existing investment in Azure resources, InCycle is here to accelerate your Identity Management best practices adoption.
To learn more about enterprise and cloud governance, download the Governance Playbook today!