InCycle Exhibits and Presents in Seattle & Portland
If you aren't already familiar with Azure DevFest, it's a locally led developer event that is sponsored by Microsoft and select partners. InCycle is delighted to have had the opportunity to sponsor and present at such a great event. Over 150 people attended!
The one-day event focused on popular technologies like containers, serverless computing, conversational bots, and DevOps practices and services. Following a keynote, the event provided technical sessions and open discussions with Microsoft and partner experts.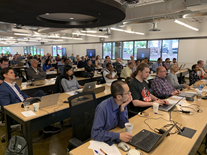 The event was designed to help participants gain a thorough understanding of cool developer technologies built-in to Azure and other developer services that Microsoft & partners provide.
InCycle presented "How to accelerate DevOps by adopting modern infrastructure as code (IaC)". Complete with a demo and downloadable accelerators, participants learnt firsthand how to improve DevOps and automation capabilities.
If you'd like to learn more about how IaC can be applied to enhance your DevOps capabilities, simply reach out and we'd be happy to share of our presentation.