OpsHub and InCycle enable a global imaging products company to accelerate innovation by modernizing legacy tools and migrating to Azure DevOps.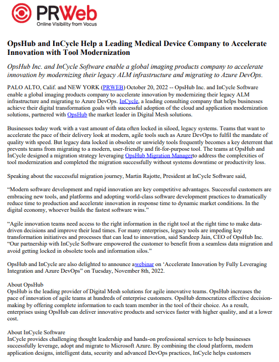 Source: Palo Alto, Calif. and New York, NY, October 20, 2022 Press Release
Businesses today work with increasing amounts of valuable data locked in siloed, legacy systems. Teams that want to accelerate the pace of their delivery look at modern, agile tools such as Azure DevOps to fulfil the mandate of quality with speed. But legacy data locked in obsolete or unwieldy tools frequently becomes a key deterrent that prevents teams from migrating to a modern, user-friendly and fit-for-purpose tool. To address this challenge, the teams at OpsHub and InCycle designed a migration strategy leveraging OpsHub Migration Manager to address the complexities of tool modernization and completed the migration without systems downtime or productivity loss.

Speaking about the successful migration journey, Martin Rajotte, President at InCycle Software said,
"Modern software development and rapid innovation are key competitive advantages. Successful customers are embracing new tools, and platforms and adopting world-class software development practices to dramatically reduce time to production and accelerate innovation in response to dynamic market conditions. In the digital economy, whoever builds the fastest software wins."
To learn more about how OpsHub and InCycle partner for customer success, we invite you to our upcoming webinar entitled 'Accelerate Innovation by Fully Leveraging Integration and Azure DevOps" on Tuesday, November 8th, 2022.
About OpsHub
OpsHub is the leading provider of Digital Mesh solutions for agile innovative teams. Enterprises using OpsHub can deliver innovative products and services faster with higher quality, and at a lower cost. For more information on OpsHub and OpsHub Migration Solutions, visit https://www.opshub.com.